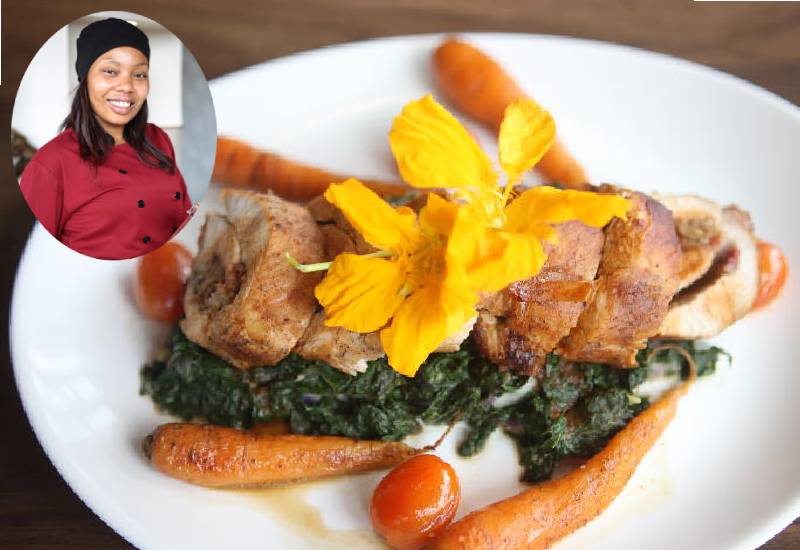 Victoria Kariuki is a sous chef at The Curve Kitchen, a restaurant at the Curve by the Park Hotel. She shares her star recipe with us.
Victoria has been a chef for 7 years, a job she chose because of her deep passion and love for cooking and serving up mouth-watering cuisines.
For her, best part of being a sous chef is the satisfaction she achieves from mastering her art so well that she can create signature dishes that mesmerizes diners who are keen to ask how she created the dish.
She also loves that her career inspires other young apprentice chefs who look up to her mastery in the kitchen and want to achieve what she has done in her career.
Chicken Roulade
Why I love this recipe:
The taste combined is sumptuous. I love it because the blend of mushrooms and bacon in this dish is incredibly mouth watering.
Ingredients:
Chicken breast -150gms
Bacon – 60gms
Black pepper- ¼ tsp (0.001gm)
Mushrooms – 50gms
Salt – ¼ tsp
Cherry tomatoes – 50gms
Baby carrots – 80gms
Spinach -60gms
Method:
Finely chop the onions, bacon and mushrooms.
Place the pan on fire. Once it's hot, pour in some oil then add in your onions. Slightly sauté them. (Do not let them brown).
Add in your bacon and slightly sauté. Add in your mushrooms and allow for 5 minutes then season with salt and pepper. Keep aside.
Take the chicken breast and flatten it. Top it with the bacon mixture. Roll up and tuck in ends and wrap it with cling film. Close the knots on the sides.
In a pot, place some water and heat until boiling temperature. Dip the wrapped chicken in the boiling water and let it boil for about 10 minutes. This is to partially cook the chicken and to keep it firm.
Remove the chicken from the water and place in a hot pan. Add some oil and fry the chicken to a golden brown colour. Transfer the chicken to oven to bake.
Steam the baby carrots in a pan and sauté them in oil with cherry tomatoes and season with salt and pepper. In a separate pan, sauté onions, garlic and add in the spinach. Let it cook for about 10 minutes.
The meal is now ready to be served with a starch of your choice.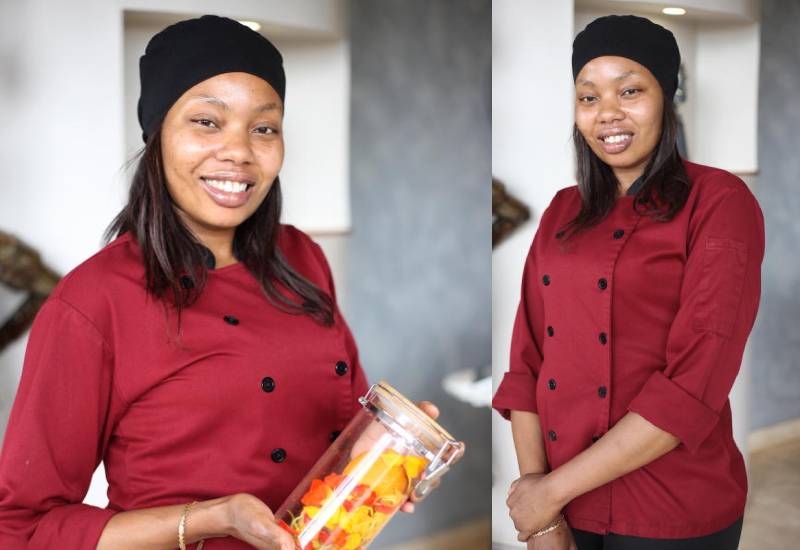 Chef Victoria's:
Ingredient that adds a kick to any meal:
Black pepper- it's tantalizing and adds flavour.
Must-have gadget in the kitchen
A chef's knife. It's a multipurpose tool which comes in very handy for any chef as it can be used in carving, deboning and chopping of herbs as well as dicing of vegetables.
Original article by Jacqueline Mahugu